Tembea Kenya Cultural and Business Exchange  is the first event organized  in Italy where entrepreneurs from Kenya and Italy can meet and communicate. A cultural forum and Expo to develop business opportunities and cooperation agreements. A whole day event meeting and exhibitions organized to create productive partnerships and synergies between Kenya and Italian enterprises opening even greater doors for investment opportunities in Kenya.
Organized by ALL-KENYA Consulting, a company that  facilitates linkages and partnerships between businesses in the East African region, businesses in Italy and the Diaspora Community will have  over 30 exhibitors attending from banking and other various sectors as well.
It's a unique occasion to anticipate the Kenyan growth trend.  With an unprecedented prediction Kenya represents the future for investments and opportunities in the Sub-saharan Africa.
This "forum and expo" will be the first event in a long series to promote economic and business exchanges between Italian and Kenyan entrepreneurs, to develop prosperous partnerships as well as benefit the Kenya Diaspora at large.
WHY EXHIBIT
There are many different reasons as to why you should exhibit at the Tembea Kenya Cultural and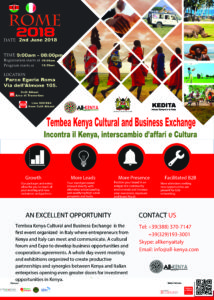 Business exchange.
Generate pre-qualified sales leads
Promote your products face-to-face
Conduct industry research
Engage with the Kenyan Diaspora market
Demonstrate your product in a live environment
Build your brand to your target market
Gain advantage of relative early entry into a growing market
Meet decision makers in various business sectors
Have the opportunity to participate in B2B