The advertising rates are as follows:-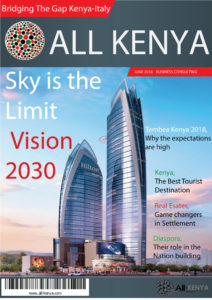 Euro 500 (internal covers – 210 x 297 mm)
Euro 450 (Full page – 210 x 297 mm)
Euro 350 (Half a page – 210 x 148.5mm)
Euro 280 (Quarter page – 105 x 148.5 mm)
Euro 230 (box – 100 x 70 mm)
All Kenya magazine "All Kenya" was officially launched in May, 2018 as a way of providing an interesting communication and promotion tool of interaction between the Italian and Kenyan Communities.
All Kenya Magazine is freely circulated countrywide here in Italy; specific strategic locations like the Kenya Embassy Rome, International Organizations, Chambers of Commerce, the Kenyan community in Italy and major Italian institutions as well as United Agency bodies here in Rome. It is also regularly circulated to travelers to Kenya including distribution at Fiumicino and Malpensa airports, and to potential investors to Kenya.   In addition, this magazine is also  distributed at All Kenya's promotional events in Italy (exhibitions, fairs, workshops, receptions, etc).
The Magazine is an A4 format with glossy cover and 44 full color pages. It is distributed free of charge therefore its production fully relies on funds acquired from sponsors. We are therefore contacting you as a potential sponsor, asking whether you are interested in buying publicity space in our magazine. This will give you visibility with the above mentioned readers.
Kindly note that the rates do not include the graphic layout, that should be provided by the sponsors in advance. For every advertiser on this first issue of the magazine, we shall offer a free online advert of the same at the All Kenya website https://www.all-kenya.com
For any further information or clarification  kindly contact our Office, Mr. John (Tel. +39-388-370-7147), or Ms. Grace (+39-329-193-300), email: advertsing@all-kenya.com who can personally illustrate the advantages of promoting your company/institution in our magazine.