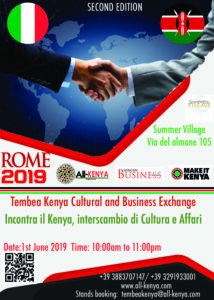 Tembea Kenya Cultural and Business Exchange  is the second edition event organized  in Italy where entrepreneurs from Kenya and Italy can meet and communicate. A cultural forum and Expo to develop business opportunities and cooperation agreements. A whole day event meeting and exhibitions organized to create productive partnerships and synergies between Kenya and Italian enterprises opening even greater doors for investment opportunities in Kenya.
Organized by ALL-KENYA Consulting  in partnership with African Business Exchange. Companies that  facilitates linkages and partnerships between businesses in the East African region, businesses in Italy and the Diaspora Community will have  over 30 exhibition stands to host various business companies as well as Non governmental organizations.
Following the success of the 2018, this gives us yet another unique occasion to anticipate the Kenyan growth trend.  With an unprecedented prediction Kenya represents the future for investments and opportunities in the Sub-saharan Africa.
This "Cultural and Business Exchange" will be the second event in a long series to promote economic and business exchanges between Italian and Kenyan entrepreneurs, to develop prosperous partnerships as well as benefit the Kenyan Diaspora at large.
For more information, download and fill in the following form or call us to discuss the best way for your business to be involved. Don't miss this opportunity to reach out to the target audience.
To register, kindly fill in and submit the form below: to tembeakenya@all-kenya.com
BOOK A STAND
Meet your  audience and grow your Business!
Benefits of having a Stand at Tembea Kenya Cultural and Business Exchange– Rome 2019 
✓ Showcase your products and services to the large Kenyan Diaspora and Italians
✓ Place your company next to big names in Italy
✓Engage your audience by running your business presentation
✓ Brand your business as expat-friendly
✓ Join the B2B networking exclusively for exhibitors and investors
Remaining Stand are limited so please be prompt and book NOW!
Send the complete filled form and payment slip to: